August 20, 2017
Big Brother 19 Live Recap: Episode 26 – Head of Household Competition!
|
Tonight we will watch the Head of Household competition that took place after the double eviction on Big Brother 19. If you have been keeping up with my Big Brother 2017 spoilers, then you already know who won the HOH. If you don't want to wait to find out you can find out who won the HOH right here!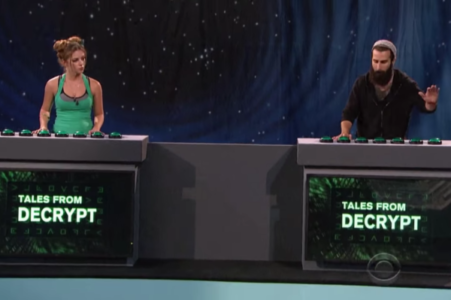 After the HOH comp, we will also get the details of the new temptation tree that we have seen in the Big Brother 2017 house. Keep refreshing this page for all the details of tonight's episode of Big Brother 2017. Make sure you let me know what you think of tonight's episode in the comment section below or on social media!

We start tonight's episode off with the HOH comp. It is called Tales from Decrypt and it will be played tournament style. They will be looking at a screen with a encrypted clue and there are a series of buttons in front of them. Each button has an evicted HG on it and those will be the answers for each clue.
In the first round, it's Raven and Mark, Raven wins by answering first and Mark is eliminated. Paul beats Alex and she is eliminated. Christmas beats Kevin, Josh beats Matt. It is down to Raven and Paul, Josh and Christmas. Paul beats Raven and Christmas beats Josh. The last round it Christmas and Paul and Christmas pulls out the win, only because Paul throws it to her. He wants to be able to play next week and keep himself save. Christmas is the new HOH and keeps saying that she is going to be making big moves, what big move do you think it will be?
Alex wants Kevin out so bad. He apparently knows Derrick and Alex thinks that it might be because Kevin is an undercover cop like Derrick is. Especially because of his extensive knowledge of organized crime and some of the stories he tells. Alex tells Jason that they need to get rid of Kevin too, but that means that Jason needs to stop feeling guilty about things. Jason then goes to talk to Kevin and asks him what he said to Alex, Kevin tells him he didn't say anything. Jason tells him that they will have to fix this later.
Jason then goes to Alex and tells her that he talked to Kevin, which just annoys her even more. Kevin walks in and she tells him that she is annoyed with him always asking her what Have-Nots can eat. Meanwhile, Josh and Christmas are having a conversation about what Cody said on his way out the door. Josh tells her that he believes that Jason and Alex might be planning something behind their backs.
Jason gets to read his HOH letter and I'm crying right now. The end of the letter says that his son has something to say, "Daddy has to win Big Brother because I'm going to be a big brother!" Jason just found out that his wife Holly is pregnant with their second child. Now it is time to watch as the HGs are planning their final 3s. Paul is trying to attach himself to each of the "power duos" and he is doing a pretty good job at it. At this point, he is in a F3 deal with Alex and Jason, Raven and Matt and Christmas and Josh.
Christmas tells her that he big move this week is to backdoor Mark, really? That's your big move? She is thinking of putting Jason and Matt up as pawns and if for some reason Mark gets picked and wins POV, they will go after Jason/ They have decided to go after Jason because of the speech he gave when he was putting up Mark and Elena. Everyone thinks it was fishy that he was "on the fence" about the moves that Mark was planning to make if he won HOH.
It is time to find out what this temptation tree is all about. The Tree of Temptation will be in place for three weeks, there are 5 apples on the tree. Each apple has a power or punishment inside and when the tree turns red, the first HG to go to the DR and claim an apple. The tree turns red and everyone sees it, Mark is the first one to go to the DR and tells them that he wants to claim an apple. He picks one and inside the apple there is a paper that says "Save a Friend" but Mark doesn't have any friends so who will he use it on?
He knows he is the target, they haven't exactly been secretive about it. Christmas talks to Matt and Jason about being pawns. Her goal is to BD Mark, but Jason is her second choice if Mark should get picked and win POV. Mark goes to talk to Christmas and Josh about him being willing to a number for them and would be willing to work with them on getting Matt and Raven out. She tells us that keeping him around might be something worth thinking about.
It is time to find out who Christmas is nominating. Mark has to decide who he is using his Save a Friend power on before the nominations are announced. He decides to use it on Paul in hopes that this will sway him and the rest of the HGs into not backdooring him this week. Her first nominee is Matt and her second nomination is Jason. She tells Mark that he is an incredible competitor but he aligned himself with the wrong people in this game and she hopes that he could understand her move.
Join us on Big Big Brother for all your Big Brother 2017 spoilers, news, recaps, previews, pictures and much more! Find us on Twitter and keep up with us on Facebook. Every sign up for the Live Feeds helps support this site to keep bringing you Big Brother 19 spoilers, news and gossip all season long. Want to see more from Tammie Slogeris? Follow her on Twitter and like her on Facebook to join in on the conversations!
Recent Posts on Big Big Brother:
92 Responses

to "Big Brother 19 Live Recap: Episode 26 – Head of Household Competition!"