July 5, 2017
Big Brother 19 Live Recap: Episode 4 – Who Won POV?
|
Tonight is the night they air the Power of Veto comp on Big Brother 19 and I can't wait to see how this played out. Anyone who has read the Big Brother 2017 spoilers knows who won, but we have all heard time and time again how Cody threw the comp. Make sure you refresh this page to get all the details of tonight's episode of Big Brother 19!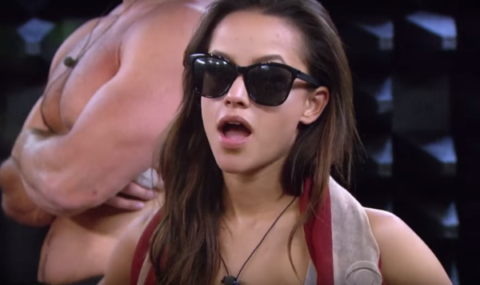 Not only will we get a look at the POV comp, but we will also get a look at the Veto Ceremony and how that played out. I can't wait to see the look on Cody's face when this backfired on him. I'll try not to spoil anything as I recap the show, but if you want to know ahead of time what happens during the Veto Ceremony, find out here! Otherwise, keep refreshing this page for the details!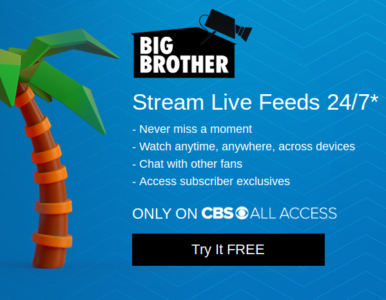 We started tonight's episode of Big Brother 19 off with Jillian talking about her being put up against Alex on the block. We then see Cody and Jessica talking about his nomination speech to Alex and how he got all choked up. She finds Alex as a threat and wants her out as soon as possible.
We then see Alex talking to Jason about how she wants to break up the showmances and he agrees. We then see the Den of Temptation graphic come across the screen and the HGs find out that they will find out who the cursed because Paul took the Pendant of Protection. They are told that they will put their hand into a serpent's mouth and if the eyes glow green, they are safe, but if they glow blue, they are cursed.
Ramses gets the curse and he is told that he is forced to put himself on the block as a special third nominee at one of the next three nomination ceremonies. He is freaking out because he has to very strategically when he is going to put himself on the block to make sure that he gets the votes to stay in. We then get to watch the rest of the HGs freak out about the snake they have to stick their hand in, it's obviously a fake snake, but they are freaking out anyways.
After everyone goes in, it is time to pick players for the POV comp. Matt, Raven and Jason are picked to compete in the POV with Cody, Alex and Jillian. He also had to pick a host and he picks Kevin. We then find out what the comp is. They have to find starfish in the water and stack them on a table, but they have to have water in their aqua-clock in order to stack their starfish. They can add water to add time.
There is also a temptation starfish, it's gold and the first person to stack on gets to avoid being a HN all summer, but eliminate themselves from the comp. Raven finds one and stacks it. The stars aren't stacking very well for them and they have to take time to restack them. Matt stops stacking at 10 startfish and Jason stops at 14.
It comes down to Jillian, Alex and Cody. After Cody's starfish fall again, he gives up and Jessica isn't happy about this at all because she knows that this is going to give Alex the comp. When Cody's timer runs out, he has 2 starfish. Alex manages to take the lead with 16 and Jillian only gets 10. Which means that Alex wins the POV. Cody tells us that he is happy about her winning because she gets to stay and he gets to renom someone he hasn't trusted from the start!
Alex is excited she won, but she is a little upset that Cody threw the challenge in order to let her win. He then tells her that he has a plan and asks her to trust him. Dominique and Jessica are talking about how Cody threw the challenge and how mad she is that he did it to give Alex the advantage. When Alex tells Jason that she thinks Cody threw it, he is nervous that he is the renom choice.
The showmances and Paul are all trying to come up with a new plan and that's to put Jason up. He also mentions how strong Ramses is but Cody doesn't trust Paul and seems to be leaning towards renoming him instead of taking the advice of the group who agrees that Jason needs to be put up.
Jessica tells Cody they need to talk and she tells him that she is mad because he threw the comp and let Alex win the POV. He tells her that he 100% wanted to win the comp, which is a lie. She asks him if they could at least play it safe for one more week and he tells her that no, she got him and he never plays it safe.
Paul goes to talk to Cody to find out what his thoughts are for renom and Cody doesn't say anything to him. He just continues to brush his teeth and ignore that Paul is even talking to him. Paul knows that there is something up with him not talking to him, but Cody tells him that his actions are going to speak louder than his words at the Veto Ceremony.
Paul then goes to talk to Christmas about what he thinks Cody is planning, which is putting him on the block. Christmas tries to tell him that she thinks Cody will put up Jason, not Paul. Later we see Jason going to talk to Cody because he is worried about Cody putting him up. Cody tells Jason that if he agrees not to put up the couples and Dominique then he is safe this week. Cody tells Jason that the move he is going to make is going to keep Jason's numbers up, but bring Cody's down so he will be safe. Jason takes the deal.
We end tonight's episode off with the Veto Ceremony. Alex announces that she is taking herself off the block, which was a given. Cody now has to name his renom. Cody picks Paul to be his renom, but Paul can't be put on the block because he has the Pendant of Protection! That means that Cody has to pick another renom and he tells Christmas that she got screwed and chooses Christmas as his renom!!
Make sure you come back tomorrow night for eviction night! You are not going to want to miss the action that comes out of the Big Brother 19 house!
Join us on Big Big Brother for all your Big Brother 2017 spoilers, news, recaps, previews, pictures and much more! Find us on Twitter and keep up with us on Facebook. Every sign up for the Live Feeds helps support this site to keep bringing you Big Brother 19 spoilers, news and gossip all season long. Want to see more from Tammie Slogeris? Follow her on Twitter and like her on Facebook to join in on the conversations! 
Recent Posts on Big Big Brother:
87 Responses

to "Big Brother 19 Live Recap: Episode 4 – Who Won POV?"