September 18, 2013
Who Won Big Brother 2013 Tonight? 9/18/2013
|
We started the season with 16 HouseGuests on Big Brother 15, but the final three HGs fought for the $500,000 and only one of them would be the winner of Big Brother 15, but who won Big Brother 2013 tonight? Get the voting results in my Big Brother 2013 spoilers below!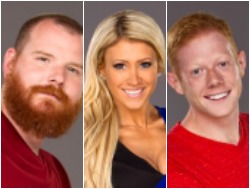 The season came down to The Exterminators (minus Judd) representing the Final 3. Either Spencer, GinaMarie or Andy would walk away with the $500,000 prize, but only after hearing how the jury voted. Which one did not tick off the jury enough to win the money? Get the full details over in my Live Recap, otherwise scroll down for the voting results!
WARNING: BIG BROTHER 2013 SPOILERS AHEAD!
Don't want to know who won Big Brother 15 tonight? Then don't read ahead!
**********************************************************
*S*
*P*
*O*
*I*
*L*
*E*
*R*
*S*
The HouseGuest that won tonight on Big Brother 2013 is Andy Herren! He got five of the first seven votes and he wins the $500,000 over GinaMarie. She comes out and gets a hug from Nick, so she doesn't even care!

Relive the season in the Live Feeds archives. Get a free two-day trial here!!!
Join us on Big Big Brother for all your Big Brother 2013 spoilers, news, recaps, previews, pictures and much more! Find us on Twitter and keep up with us on Facebook. Don't forget Big Brother 15 live feeds for even more Big Brother fun, but uncensored! Every sign up helps support this site to keep bringing you Big Brother 15 spoilers, news and gossip all season long.
Recent Posts on Big Big Brother:
96 Responses to "Who Won Big Brother 2013 Tonight? 9/18/2013"
Leave a Reply
Commenting Rules:
Keep the conversation civil and on topic. If your comment does not add to the conversation, it will be removed. Debate intelligently. Insulting the author, Big Big Brother, or other commentators will result in comment removal and possible ban. Any comments with links or flagged words will go into moderation before approval. Anything we deem as spam will not be approved. Comments left in ALL-CAPS will be deleted regardless of content.
Pingbacks & Trackbacks: