July 30, 2014
Big Brother 2014 Spoilers: Episode 16 Sneak Peek (VIDEO)
|
It is Veto Night on Big Brother 2014 tonight, as we see the Power of Veto competition and meeting take place on CBS tonight. What will it bring us and will Team America be able to accomplish their mission? They are supposed to be causing chaos on Big Brother 16, but it might fan out to be a big dud (or so everyone is saying)! Is there any way we can voice our opinion to CBS on this twist on Big Brother 2014 and how it sucks? Check out a sneak peek of tonight below in our Big Brother 2014 spoilers!
>>>Click here for our Big Brother 2014 Live Recap for Wednesday Night!!!<<<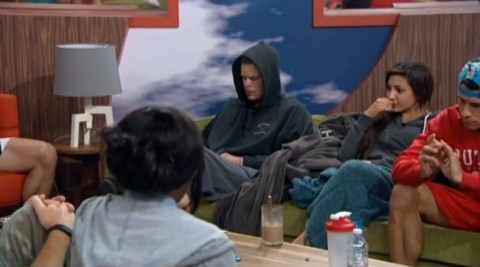 If you are one of those people that refuse to read any of our Big Brother 2014 spoilers and you only watch the shows on CBS then you have no idea what has happened since we saw Nicole and Christine win Battle of the Block on Big Brother 16 Sunday night! If you do keep up, then you know all the excitement that has happened since then and the drama and tears that are hopefully shown tonight!

We have the aftermath from the Battle of the Block and seeing what the HGs are planning to do for Week 5. They have backdoor plans in the works, but for who? And can they actually pull them off this week? The big question of the night: how bad will Zach hurt his game by his crazy antics in the Big Brother 2014 house?
Check out a preview for Big Brother 2014 tonight here:
Join us tonight on Big Big Brother for our Big Brother 2014 Live Recap. Let's watch together and see who won Power of Veto on Big Brother 16 tonight! Find us on Twitter and keep up with us on Facebook. Don't forget Big Brother 16 live feeds for even more Big Brother fun, but uncensored! Every sign up helps support this site to keep bringing you Big Brother 2014 spoilers, news and gossip all season long.
Recent Posts on Big Big Brother:
61 Responses

to "Big Brother 2014 Spoilers: Episode 16 Sneak Peek (VIDEO)"