July 30, 2014
Big Brother 2014 Spoilers: Live Feeds Recap – 7/29/2014
|
While it was a new day in the Big Brother 2014 house, it definitely felt like the same day from Monday! That is, until the evening rolled around and these HGs decided to tell Caleb the plan to get rid of Amber this week on Big Brother 16 and he has lost it. I don't know if this is good or bad, as we have two days in that Big Brother 2014 house and you never know what might happen! Check out the highlights below in our Big Brother 2014 spoilers!
>>>Click here for our Big Brother 2014 Live Recap for Wednesday Night!!!<<<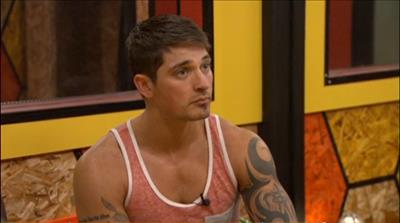 Photo Credit: BigBrotherUpdates.com
To be honest, the day could have been on repeat and no one would have known. It was another day of Caleb being delusional and both him and Amber thinking she is staying and he deserves more from her and all he has done for her and blah blah.
Try It Free! Subscribe now to the official BB16 Live Feeds
To the good stuff (if I can even keep it together). There was a lot of action that happened and it all revolves around telling Caleb the plan or blindsiding him on Thursday night with the eviction of Amber. They think a blindside could make him come after him (we would hope), so of course they eventually told him (and made Zach do it).
Prior to this, there was talk of keeping Amber around and sending Jocasta home this week. They are worried about numbers and the other side of the house ganging up and coming after them, which they don't seem to figure out themselves. Derrick eventually nixes the idea because Amber is not to be trusted.
There literally was a lot of back and forth and people talking and Hayden and Cody talk about Christine and how they can't trust her. Then people can't trust Frankie and Nicole is paranoid about Frankie throwing her under the bus with Amber and her saying that Amber approached her for an all-girl alliance. We also saw Cody and Zach talk for a while and it seems like they may have worked out their differences and are talking some major game with each other. They don't trust Christine or Frankie and it looks like they know all the drama happening is because of rumors from the two of them. Frankie always throws Zach under the bus any chance he can get because he knows Zach will always have a bigger target on his back. If only Zach could calm it down for a little while!
But that does not happen, as they decide to tell Caleb about Amber going home. However, they have it come across as Amber is now targeting Caleb (which she did mention earlier because he is ruining her game). Zach tells him and Caleb freaks out! He goes and gives her the death stare and doesn't talk for a long time (and even flung her rabbit slippers he was wearing across the living room)! He did all this for her and she wants to target him? He is nuts and now seems to want her gone, but this went late into the morning and we'll keep you updated….these HGs on Big Brother 2014 never go to bed!
Join us on Big Big Brother for all your Big Brother 2014 spoilers, news, recaps, previews, pictures and much more! Find us on Twitter and keep up with us on Facebook. Don't forget Big Brother 16 live feeds for even more Big Brother fun, but uncensored! Every sign up helps support this site to keep bringing you Big Brother 16 spoilers, news and gossip all season long.
Recent Posts on Big Big Brother:
55 Responses

to "Big Brother 2014 Spoilers: Live Feeds Recap – 7/29/2014"