August 4, 2017
Big Brother 19 Live Feeds Recap: Week 6 – Thursday
|
Last night was eviction night on Big Brother 19 and we watched as Jessica and Cody dodged a huge bullet! Jessica used her Halting Hex temptation to stop the eviction last night and then the HGs went on to play in this week's HOH. Keep reading my Big Brother 2017 spoilers for all the details!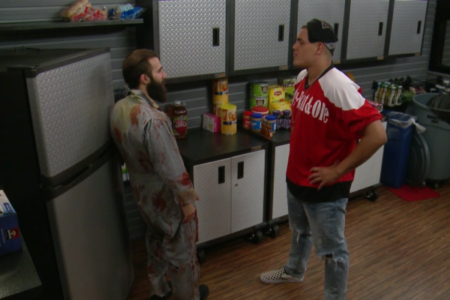 After the eviction was halted with Jessica's Hex, the rest of the HGs went on to play in the first comp of the Big Brother 19 horror week. If you missed how that went down, you can find all the details of last night's HOH right here! Keep reading my Big Brother 2017 live feeds recap to find out what happened after the HOH comp.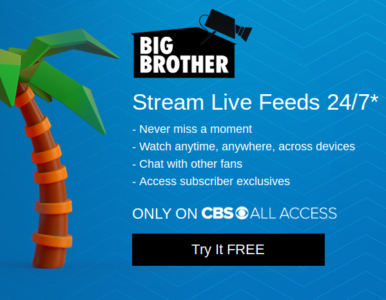 So, as we all know, Josh won the HOH last night. Can we all guess who he plans on targeting? If you guessed Jessica and Cody, then you were right. Does that really surprise anyone? I didn't think so. When the feeds came back from the HOH comp Josh is celebrating his win, still. Jessica and Cody are getting something to eat and then they retreat to their bed while the rest of the house chats about this week's plans.
For any of the Jody fans out there, don't be discouraged yet because there is a small chance that they can both be safe this week. If Jessica or Cody win the Temptation Comp and get safety and win the Power of Veto, they could both be heading to Jury.
Back to the live feeds from last night, Alex goes into to tell Josh that Mark and Elena are trying to start problems. Josh points out that Mark is in the room and that leads Mark to ask her why she is always trying to start things. Alex then tells Mark that he needs to pick whether he is going to be on Paul's side or Jess and Cody's side. This conversation goes on for what seemed like forever and in the end they they seemed to have hashed things out.
There is then a conversation between Elena and Josh about how her and Mark didn't celebrate his HOH win, but Elena is trying to tell him that she is happy for him. Later, Mark tells Elena that he really wanted Jess or Cody to win HOH so they were safe until Jury.
Paul is telling Josh that he thinks they should let the word out that Cody is their target, but then blindside Jess on eviction night. Elena later asks Paul and Christmas who the target is this week and they both tell her it's too soon to tell because they don't even know that both Cody and Jess will be on the block by eviction night.
I also want to point out that Christmas is very quietly starting to plant seeds against Paul with Josh and Alex. Paul asks her at one point last night about her temptation, remember she still has the Ring of Replacement. He tells her that he has a plan for it and tells her that in the case that Cody competes for POV, she should use it to pull him out of the comp. She said she has to check with production to see if it's still active. She knows damn well it is.
By the end of the night, I'm a little confused as to who Josh's target really is. He kind of flip flops between Cody and Jessica all night. This might also be because Christmas mentions to him that he shouldn't do everything Paul says. Looks like everyone will be competing in the Temptation Challenge a little later today so stay tuned for those results!
Join us on Big Big Brother for all your Big Brother 2017 spoilers, news, recaps, previews, pictures and much more! Find us on Twitter and keep up with us on Facebook. Every sign up for the Live Feeds helps support this site to keep bringing you Big Brother 19 spoilers, news and gossip all season long. Want to see more from Tammie Slogeris? Follow her on Twitter and like her on Facebook to join in on the conversations!
Recent Posts on Big Big Brother:
35 Responses

to "Big Brother 19 Live Feeds Recap: Week 6 – Thursday"