July 26, 2014
Big Brother 2014 Spoilers: Live Feeds Recap – 7/25/2014
|
It was another emotional day in the Big Brother 2014 house, as Derrick got word from home that his grandfather had passed away on Friday morning. It has been a rough few days for the Big Brother 16 cast and we feel for them. We also had drama at the Nominations Ceremony and a winner of the Battle of the Block determined. Check out the highlights from Friday below in our Big Brother 2014 spoilers!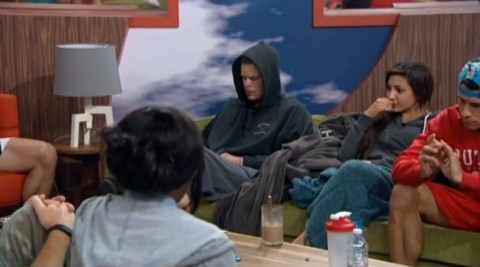 Photo Credit: BigBrotherNetwork.com
There wasn't much action during the morning or day until the Nominations Ceremony. Team America was working on Zach to start a fight during his speech and they would accomplish their mission. He did attack Christine and Nicole during the speech and said some terrible things, but apparently it did not provoke them and the mission was not accomplished! They are now working him over to go after Amber at the Veto Meeting. Team America's missions have been pointless and lame and they seem to be hurting Zach's game, even though he does a good job of it on his own.
Try It Free! Subscribe now to the official BB16 Live Feeds
The nominees were Nicole and Christine (Zach) and Victoria and Jocasta (Frankie). Victoria and Nicole both crying after the ceremony, but we all knew Nicotine would win (and they did) the Battle of the Block competition. Apparently Victoria had makeup on her costume for the competition and was crying about it and making a scene, which annoyed all the HGs.
During the evening, Derrick was called into the Diary Room and he got the letter from his family. His grandfather had passed away and the emotions came. We had the HGs sitting in the living room in silence with Derrick for a long time and then hugs all around. He said he was here for his wife and daughter and that did not change, so he is not going anywhere. He recorded a message for his grandfather's funeral later at night.
We had some game talk and it is up in the air who the real target is for Week 5 on Big Brother 2014. It all depends on what happens today at the PoV competition. It appears that Jocasta could be going home, but then there was mention of both Amber and Caleb's name. A backdoor of Amber could happen, but Frankie has all these stipulations to happen for him to nominate her (the house has to be unanimous in voting her out and he has to get Caleb's approval). It looks like Jocasta is going home, unless someone wins veto and takes her off the block.
Derrick and Cody are worried about Zach and their alliance with him. Everyone thinks he is a loose cannon and no one trusts him, but they keep him around? I think he could make a big move down the road if he sticks around that long.
We also saw Caleb talking about his dream world that he lives in. He thinks he will be big and famous once Big Brother 2014 is done. He talks about his family having a TV deal with TruTV, but it fell through. Another network picked it up, but they dropped it too. He was supposed to be on The Bachelor, but he wasn't stable enough for it (yeah, we can tell). And he wants to have a show afterwards of him going around the country in a limo and taking women out on dates, like he is their prince showing up! Come back to our world Caleb!
Today should be good, as we have the Power of Veto players being picked and then the competition and finally we can have an idea of where Week 5 is headed!
Join us on Big Big Brother for all your Big Brother 2014 spoilers, news, recaps, previews, pictures and much more! Find us on Twitter and keep up with us on Facebook. Don't forget Big Brother 16 live feeds for even more Big Brother fun, but uncensored! Every sign up helps support this site to keep bringing you Big Brother 16 spoilers, news and gossip all season long.
Recent Posts on Big Big Brother:
14 Responses

to "Big Brother 2014 Spoilers: Live Feeds Recap – 7/25/2014"