July 21, 2014
Big Brother 2014 Spoilers: Week 4 – Power of Veto Ceremony
|
After a crazy weekend of drama and kicking of a soccer ball on Big Brother 2014, it was time for Monday afternoon to hit the HGs and time for the Veto Meeting on Big Brother 16 to be held. After all the talk and wondering, we finally have the final nominees for Week 4 on Big Brother 2014. Who are they? Check out the details below in our Big Brother 2014 spoilers!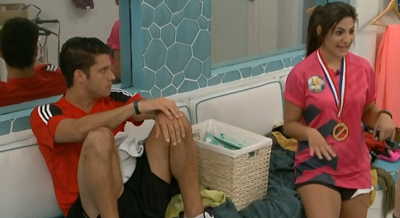 Photo Credit: BigBrotherUpdates.com
In case you missed any of our Big Brother 2014 spoilers, lets get you caught up:
Frankie and Cody won Head of Household for the week and their nominees were Amber & Jocasta and Brittany & Victoria
Amber and Jocasta won the Battle of the Block competition, which meant they were off the block and Frankie was dethroned as HoH for his nominees winning
Cody is the lone HoH for Week 4 and Brittany and Victoria remained on the block
Victoria then turned around and won the Power of Veto competition
Try It Free! Subscribe now to the official BB16 Live Feeds
We had some excitement this morning on the Live Feeds and Donny talked with Cody and stated his case to put Caleb on the block and get rid of him. Cody agreed and we all got excited, but something clicked in Cody's head and went back to the safe bet and not wanting to make a move. I don't get these people, but the excitement level just went down! Victoria removed herself from the block and Cody put Donny up as the renom!
So, our final two nominees for Week 4 are:
Join us on Big Big Brother for all your Big Brother 2014 spoilers, news, recaps, previews, pictures and much more! Find us on Twitter and keep up with us on Facebook. Don't forget Big Brother 16 live feeds for even more Big Brother fun, but uncensored! Every sign up helps support this site to keep bringing you Big Brother 16 spoilers, news and gossip all season long.
Recent Posts on Big Big Brother:
102 Responses

to "Big Brother 2014 Spoilers: Week 4 – Power of Veto Ceremony"