October 15, 2016
Big Brother Over the Top Spoilers: Who does Scott Plan to Target?
|
After Scott Dennis won this week's Big Brother Over the Top head of household competition, he immediately began to plot with the Ball Smashers (Whitney Hogg, Shelby Stockton, Morgan Willett, and Alex Willett). They wanted to take out a member of the Misfits. Scott specifically wanted to finish what Alex started last week on Big Brother Over the Top.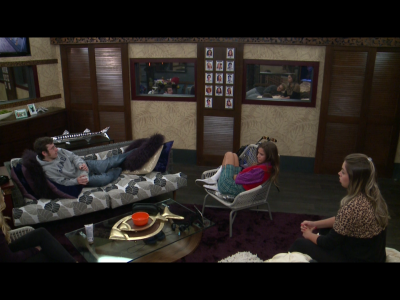 Scott mentioned on Thursday night that he would nominate Danielle Lickey and Shane Chapman. He wanted to take out Shane and expose his Big Brother Over the Top game. Scott was confident about his plan, and he managed to keep it a secret from the other side. The Misfits believed that Scott would target Kryssie Ridolfi this week, because of their past conflicts.
However, Scott knew targeting Kryssie wasn't really a smart long term game move. On Friday, America gave Scott this week's Care Package, which included the power to pick this week's veto power.
After seeing his Veto options, Scott decided to keep his target but change his nominations. Scott plans to nominate Kryssie and Neeley Jackson on Sunday night. He wants them on the block, because Scott sees them as a little weaker in competitions than Shane and Danielle.
He also plans to pick the 'Double Veto' option. This allows two players to win a veto, which will help him execute his plans to nominate and evict Shane this week.
Is there any chance that Scott's plan goes smoothly and Shane ends up on the Big Brother Over the Top block?
Join us on Big Big Brother for all your Big Brother Over the Top spoilers, news, recaps, previews, pictures and much more! Find us on Twitter and keep up with us on Facebook. Don't forget Big Brother Over the Top live feeds for even more Big Brother fun, but uncensored! Every sign up helps support this site to keep bringing you Big Brother 2016 spoilers, news and gossip all season long.
Recent Posts on Big Big Brother:
3 Responses

to "Big Brother Over the Top Spoilers: Who does Scott Plan to Target?"