July 8, 2017
Big Brother 19 Live Feeds Recap: Week 2 – Friday
|
We were all a little shocked to find out who the noms are this week on Big Brother 2017 only because we were all expecting a different move to be made. We all know who the main target is, but if you have been watching the Big Brother 19 live feeds, then you know he wasn't put on the block. Find out here what happened after the noms ceremony on Big Brother 2017.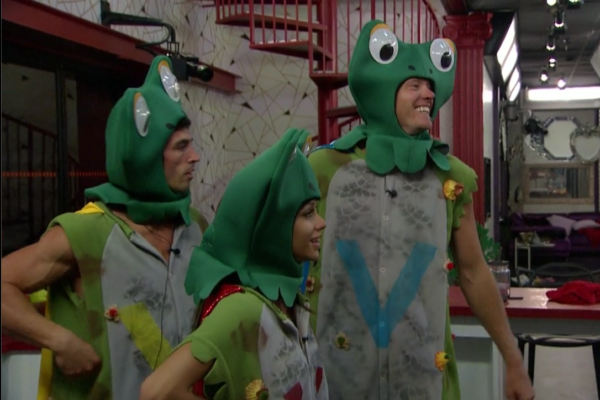 If you haven't been keeping up with the Big Brother 2017 spoilers, I'll fill you in on the picture above.  For now, you might want to just take in the fact that these three look like idiots and it's kind of entertaining. Anyways, keep reading to find out what happened last night on the Big Brother 19 feeds right here!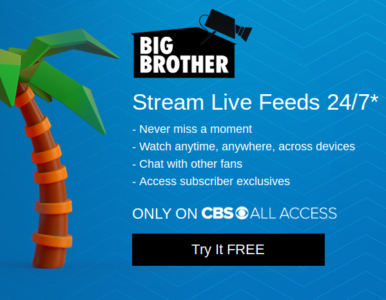 Yesterday we waited for what seemed like forever when they did the Den of Temptation and as we saw last week, they make it pretty elaborate. When the feeds came back up, it still took about an hour and a half to find out who won the temptation this week. None of us were really that surprised that Christmas had won it, but the timing does kind of suck considering her current situation.
She only told Paul about her temptation and when he asked what the curse was, she told him she didn't know. She did tell him that she got to pick the three people that it would curse. She told Paul that she picked Cody, Jessica and Ramses and for everyone who is wondering why she picked Ramses, he did VTE her this past week. The other two are self explanatory.
Prior to this, Christmas had an hour long conversation with Jason about how her feelings were hurt when she found out that he didn't vote to keep her. How she felt screwed over by him. She tells him that she had been asked by other HGs if she talked to him and how they told her that she should throw her broken foot in his face, but she tells him that's not how she wanted to handle it. Didn't she kind of do just that by bringing it up? In the end it looks like he is going to work with Christmas and Paul.
After this the Big Brother 19 feeds cut for the nomination ceremony. The feeds were down for about an hour and 10 minutes and when they came back we see Josh and Alex's pictures on the nomination wall. We knew that Paul was planning to put up pawns and even knew it was going to be them, but I'm still not quite sure why. If he put Jessica and Cody up together, one of them was bound to go home, right? Paul is joking with everyone saying they shouldn't actually compete in the POV comp and just root for Paul to win it because it would make things funnier when the Veto Ceremony happens.
At about 7:40pm BBT the feeds go down again and about 40 minutes later, the feeds are back and three of the HGs are in toad costumes. Cody, Jessica and Jason are in the costumes, we are assuming that Ramses couldn't be cursed two weeks in a row so they made Christmas pick a different HG to curse along with Jessica and Cody. I think it's messed up that she would pick Jason not knowing what the curse was, but he is taking this one rather well.
I don't have a lot of details about the curse, just that they are called "V-Toads", it forces them to hop around the house, the only time they can stand in one place is if it's on a lily pad and they have to wear the costumes all the time. As I get more information, I will fill you all in. Stay tuned for the POV players and POV results coming a little later today!
Join us on Big Big Brother for all your Big Brother 2017 spoilers, news, recaps, previews, pictures and much more! Find us on Twitter and keep up with us on Facebook. Every sign up for the Live Feeds helps support this site to keep bringing you Big Brother 19 spoilers, news and gossip all season long. Want to see more from Tammie Slogeris? Follow her on Twitter and like her on Facebook to join in on the conversations!
Recent Posts on Big Big Brother:
17 Responses

to "Big Brother 19 Live Feeds Recap: Week 2 – Friday"