September 6, 2011
|
We've been waiting for her all summer, and it finally happened! The Big Brother 2011 Fortune Teller (named Crystal, btw) finally awoke from her summer-long slumber to torment the remaining 5 HG's. (Sorry, Shelly. All your begging did no good.)
UPDATE on the LIVE FEED (and BBAD)  SITUATION:
Per Big Brother Live Feeds
CBS is blocking the feeds until tomorrow night. We have some fun live shows planned with Howie and Kevin! Janelle will be Skyping with Howie today at 3pm PT!
18 minutes ago
2-3pm PT live call-in show with Howie and Kevin
3-4pm PT Howie Skypes with Janelle
4-5pm PT Game Show Hour with Kevin & Howie
5-6pm PT Happy Hour w/ Kevin & Howie (bring your drinks!)
And if you have never watched BB11 Kevin Cambells' show called OMG/WTF-- you are missing a real treat! It is HILARIOUS!   There are all sorts of BB shows about what's happening in the house for us to pass the time with until the Wed show!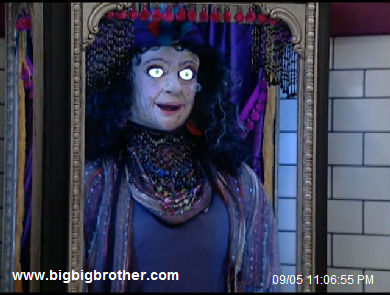 17 Comments »