July 31, 2014
Who Went Home On Big Brother 2014 Tonight? 7/31/2014
|
We have another member of the Big Brother 2014 cast walking through the doors tonight on Big Brother 16 house and it came as a shock to no one but her, so who went home on Big Brother 2014 tonight? Find out the details for Week 5 on Big Brother 16 tonight below in our Big Brother 2014 spoilers!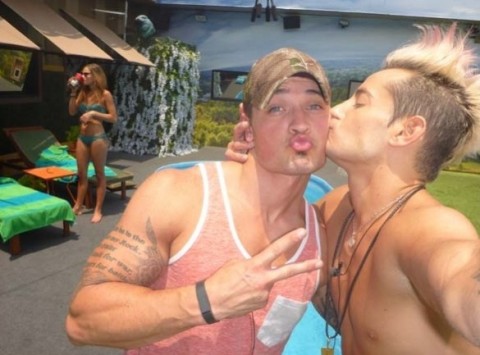 For some unknown reason, the HGs on Big Brother 2014 need to get the full house to approve any move they make in the game. Oh, I can't do that unless Caleb approves of it and won't go crazy when he finds out. We need a unanimous vote on Thursday, so everyone has to agree. They do know if their alliance votes someone out and that person has more votes then they still go home, right? They have big numbers and are safe, so settle down Detonators! Get the full details over in our Live Recap, otherwise scroll down for the voting results!
WARNING: BIG BROTHER 2014 SPOILERS AHEAD!
Don't want to know who went home on Big Brother 16 tonight? Then don't read ahead!
**********************************************************
*S*
*P*
*O*
*I*
*L*
*E*
*R*
*S*
The HouseGuest that was evicted tonight on Big Brother 2014 is Amber Borzotra!!!
These HGs cannot go against each other, as another unanimous 9-0 vote and Amber is eliminated. She has nice words for everyone as she walks out, but no hug for her Beast Mode Cowboy!
What do you think of the results on Big Brother 16 tonight?
>>>Click here for results from the HoH competition!!!<<<
Join us on Big Big Brother for all your Big Brother 2014 spoilers, news, recaps, previews, pictures and much more! Find us on Twitter and keep up with us on Facebook. Don't forget Big Brother 16 live feeds for even more Big Brother fun, but uncensored! Every sign up helps support this site to keep bringing you Big Brother 16 spoilers, news and gossip all season long.
Recent Posts on Big Big Brother:
14 Responses

to "Who Went Home On Big Brother 2014 Tonight? 7/31/2014"